Texas Independence Party Beer List Sneak Peek!
Posted on: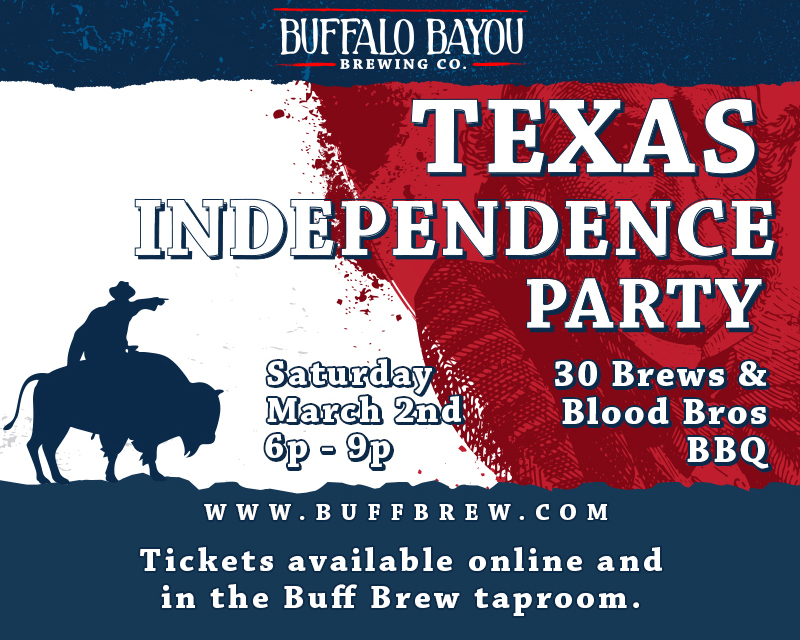 Saturday, March 2nd from 6-9 PM at Buffalo Bayou Brew Co. come celebrate the great state of Texas' 183rd birthday with us. Gnaw on Blood Bros BBQ and jam to the southern swagger of Sugarball Express while you guzzle 30 different BuffBrews as we tip our Stetsons and raise a glass to the Lone Star State and the people that make it the greatest nation (sorry, we meant state) in the world!
Hitch your horse or tie your buffalo and get ready to hoot & holler! Limited quantity early bird special tickets are available now until supply runs out. Each ticket is good for a special BuffBrew Texas Independence glass and all you can responsibly drink event pass.
Lasso yours (and your friends', and your friends' friends) before they sell out.
Tickets here - https://squareup.com/store/buffalo-bayou-brewing-company/
TEXAS INDEPENDENCE PARTY BEER LIST PREVIEW:
Granny Panties - We traded Grammy's musty panties for chardonnay grape must & added elderflower to make this delicious grape tickler
Devil's Triangle - Do you like beer? Then you'll love this trio of Sam's, elderflower and mint
Orenthal J Crush - We didn't make this beer, but we would tell you exactly how we would have, if we had done it.
Peach Impediment - Hardly a pithy pounder, this quad is strong & sweet, like Mike Tyson baked you a peach pie
Fruit Crushtail - Crush City IPA brewed by Nasty Nate. GIMME YO CRUSHTAIL. FRUIT!
Swipe Right - Much like swiping right, this beer will lead to calling an Uber early in the morning.
Pineapple Upside Down Cake - It was just pineapple cake until we flipped the keg over
Cabin Fever - Cowbell, all wooded up and ready to party
Pulp Up the Volume - Drink one and do the running man. Everyone will love it and be super impressed. They really will.
Amaretto 1836
Barrel Aged Figaro