The Herd is on the Move!
Posted on: November 8th 2017
You know that big open field next to the Silos on Sawyer, over by the big ART sign? Well it won't be empty for long! We're building a new home, and we're finally able to tell you about it.
Why Leave Nolda?
We never planned to outgrow Nolda. 7 years ago, when we found our home at 5301 Nolda St, it was a neglected warehouse that needed some TLC. We didn't have much money, but we poured it all into bringing that old boat storage site up to modern day building codes.
Our current home doesn't have A/C. The floors aren't exactly flat (so the water pools wherever it wants and we have to squeegee it to the drains), and there's no loading dock. We don't have a taproom, TV, or even permanent seating for guests. For five years none of the offices had windows. I don't want to know what our staff called my dungeon of an office, but let's just say the nicest nickname they gave me over the years was Ra's al Ghul. We don't have enough space to make beer and host guests at the same time, so we brew 24/6 and only open up for 7 hours a week. But it's our home and we love it.
We never planned to outgrow Nolda, but you demanded it. We brewed more in our first year than we planned to, and you told us to brew more. We added tanks. I never wanted to can but you told us to and we obliged. Now we're brewing more in November alone than we did in our entire first year! We're busting at the seams here at Nolda and you're telling us to brew more… so we will.
Growing up was there ever a time when you wanted something so bad you couldn't think about anything else? And Mom or Dad told you to get a job and save up and you prayed for rain so the grass would grow faster so you could mow more lawns or deliver more papers or whatever you had to do to get an extra penny to save up for your dream? Then you were so close you didn't want to tell anyone because you didn't want to jinx it? That's how we feel right now, and that's why I'm so excited to finally be able share this with you.
Some of you may have heard rumors. Full story: we've been planning this for several years, I just didn't want to talk publicly about our plans until we were ready to put a shovel in the ground. We made our first offer on this dream land last June, and drafted the first set of drawings November 2016. It has taken so much willpower not to overshare every step of the way!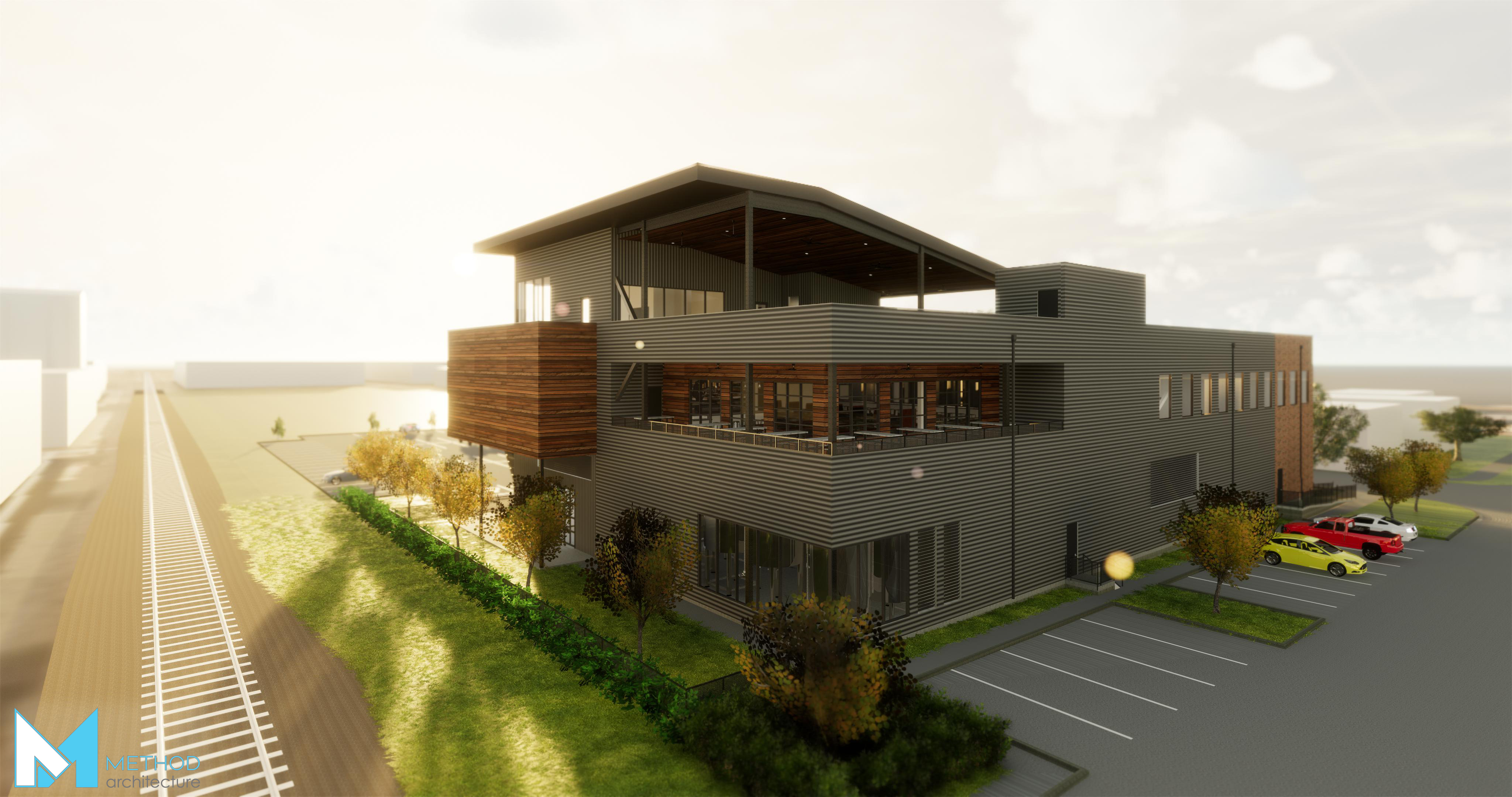 Construction will begin this Winter, and by the end of 2018 we will open a 3-story, 28,000 square foot brewery capable of brewing 10 times what we brewed last year. It'll have a rooftop beer garden with incredible views of downtown, a full-service kitchen, and yes… AIR CONDITIONING! And of course an absurd number of taps flowing with the most creative beer Houston has ever witnessed.
But before I show you all the pretty pics, I want to say Thank you.
We do this for you. Our first shift starts at 2am and we brew until Midnight. We pour every ounce of energy, pride and creativity we have into every glass. And you've welcomed us and made us part of your lives. I can't describe in words how meaningful it is to serve you. Every time we host a wedding or rehearsal dinner or birthday party I'm just so humbled because these are literally the most important moments of your life and you entrust them with us. I was in Denver and a couple came up and said they had Gingerbread Stout instead of cake at their wedding! I nearly cried. Thank you.
And thank you Steve, Jon, and the rest of the team at the Sawyer Yards Creative Community for inviting us to join your campus. This is super intimidating, y'all, but we're so excited to play with you. I wonder how Coltrane felt the first time he played with Miles Davis? He knew he was good, but was he good enough to match the genius that surrounded him? How did Clyde feel when he got the call reuniting Phi Slama Jama, joining a team that had just won a championship, trying to win back-to-back for the first time in Houston Sports History? How did Verlander feel joining the best team in Baseball, knowing the pressure of expectations and knowing that when you're surrounded by hard-working geniuses, you have to bring your A-Game every damn day. That's how we feel joining your Creative Community.
That's why we spent so much effort on the architecture, and why we partnered again with our friends at Method. We couldn't walk into a community like this, calling ourselves creative, and put up another generic brick or metal building. We had to tell a story & walk the walk. So we powered up the big guns, assembled the best team in town, and I'm so blown away by what our friends at Method have conjured up. Thank you, Jackie, Charlotte, Jake and the rest of the team at Method, I hope you're as proud of your work as I am.
First Ward radiates creative energy. There is genius literally bouncing off the walls. 40 acres, 10 buildings, 400+ Studios, 500+ Artists… the largest concentration of Artists in Texas, second largest in the US… all within a short stumble of our future taproom!!! The ecosystem y'all have built on the Sawyer Yards Creative Campus is beyond words. We are humbled and inspired to join you.
You put it on the walls, we'll put it in a glass. Forget Physics, forget Chemistry, we will be limited only by our imagination.
We've always prided ourselves in being Houston's Most Creative Brewery. We've never played it safe, we've never cut corners, we've always challenged ourselves and our fans to push past the common expectations and through to the next big idea. There is literally nowhere on the planet that I would rather build our future home. This is the only place we could be. I'm getting goosebumps y'all.
Okay okay okay. Enough words. You know I get long-winded. Without further ado, here's the first (virtual) brewery tour of our future home:
Walking into the Belly of the Beast:
I'm really proud of the story we're telling with the architecture here, but every time I tell ppl, their eyes glaze over and Nina kicks me under the table bc I'm boring. Catch me after a few Cowbells and I'll tell you about how the mashup of materials mirrors the brewing process of taking natural ingredients, breaking them up and reorganizing them as man-made objects (the bricks = cans stacked up on pallets).
See that Buffalo head? It's 25 feet tall, and you're going to walk through the mouth right into the belly of the beast. That's the line. When you cross that threshold you're entering a world of pure imagination.
Ground Level: In Media Res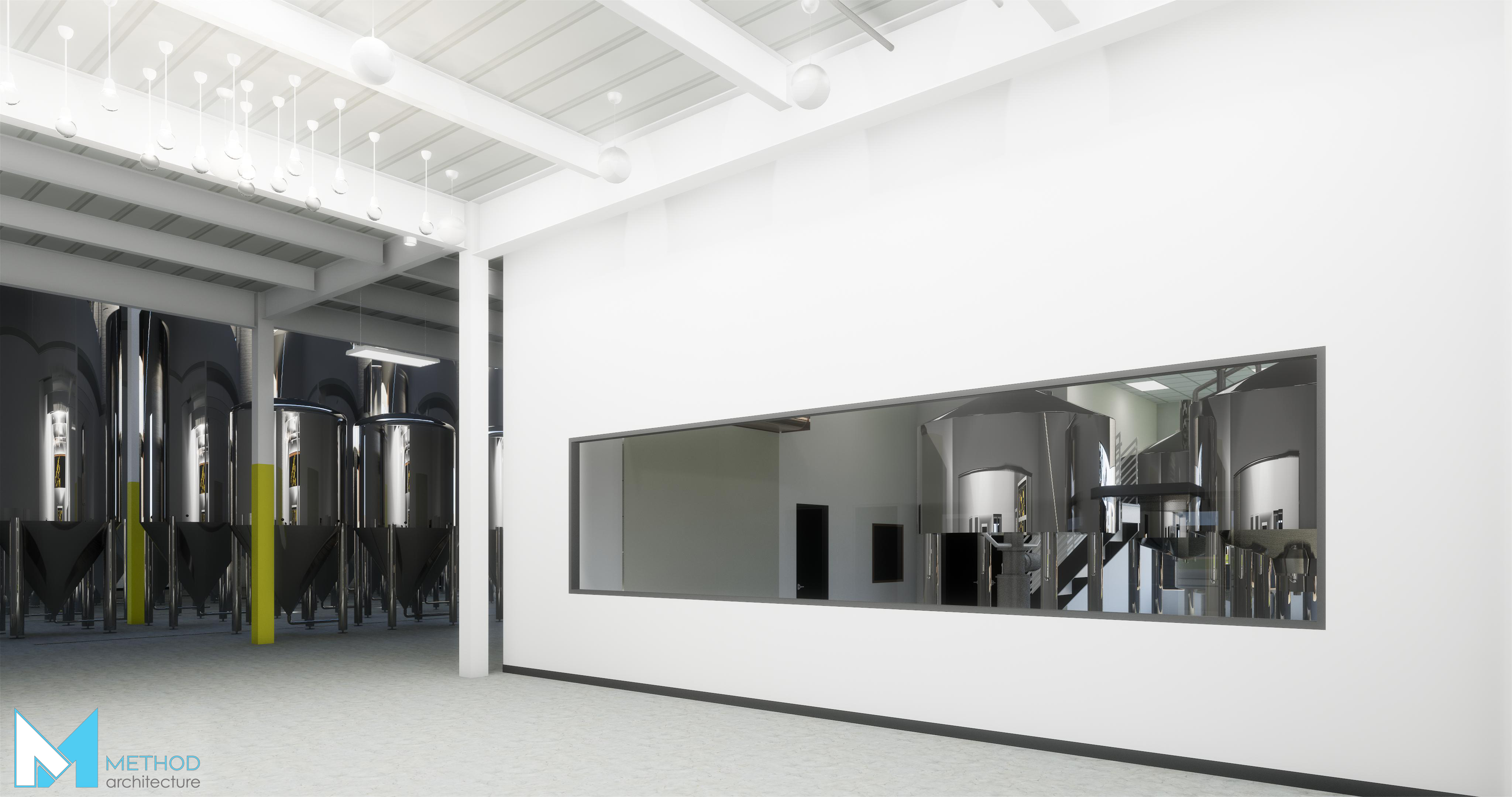 When you walk in, you'll walk directly onto the brew floor right into the thick of it. One of our pet peeves is when you go to a brewery and they hide everything behind walls, or keep you out of the fun stuff. We wanted to keep everything we love about our current tours at Nolda. You know, that
old school, picnic-tables-on-concrete brewery experience.
Want to see what the brewers are doing? The whole building is modeled after a "theater-in-the-round" experience, where the fun stuff is happening center stage, and from anywhere in the building you can sit back and witness the magic.
The first floor will also have an outdoor patio with windows into the brewhouse. Of course it'll be dog-friendly, just like we are now.
Second Floor: A/C for your Mom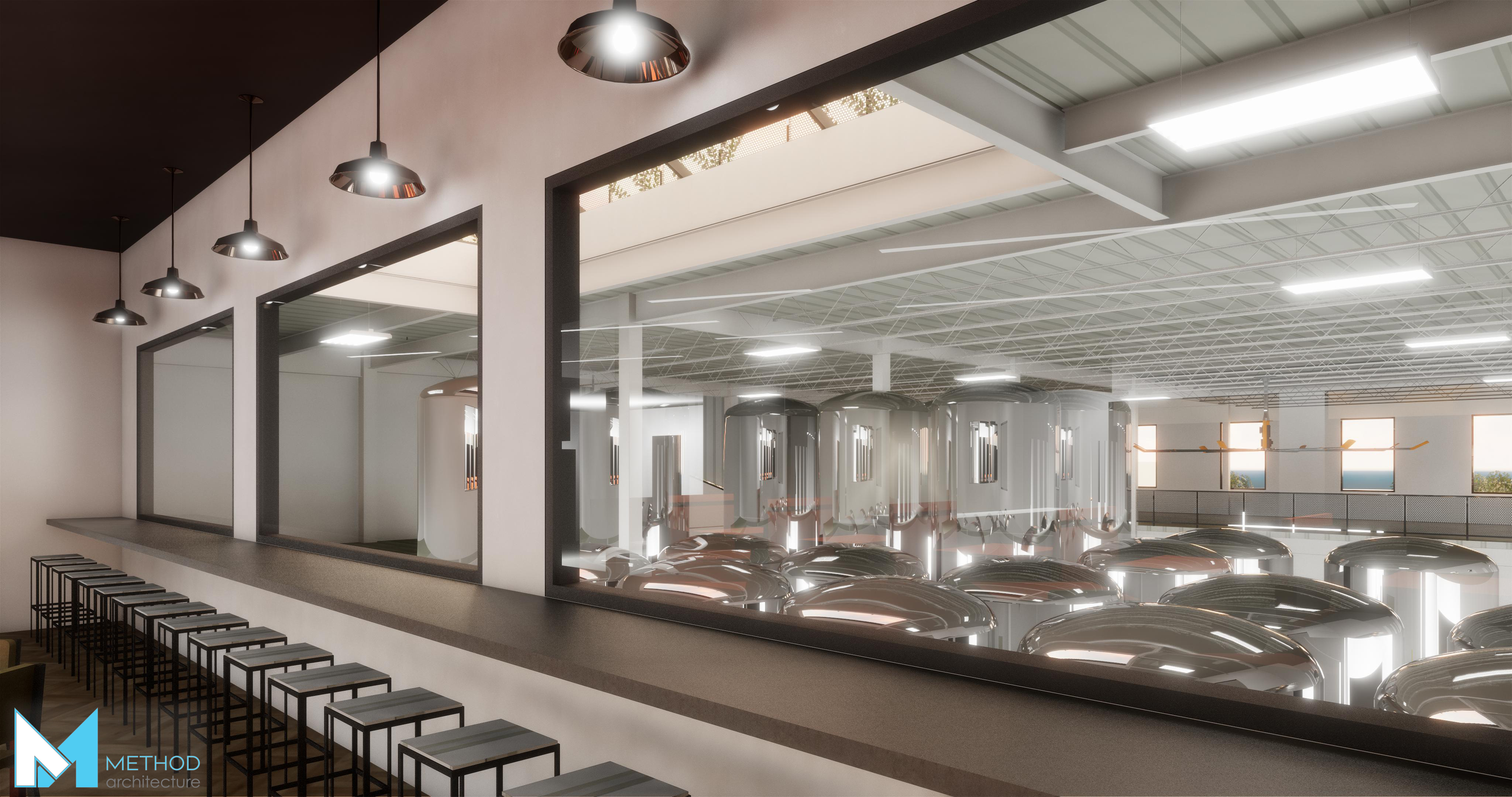 Most of you will spend a lot of time on the Second Floor. It'll be a more traditional brewpub experience: a full service kitchen and a 200 person taproom & a patio with a nice view of Downtown. Here we're defining what it means to be an "Urban Brewery". On the "Urban" side, you've got 50 feet of windows overlooking Downtown, and on the "Brewery" side there's 30 feet of windows overlooking the production floor. And of course an absurd number of taps pouring quaffable & curious concoctions.
This is the view from the Third Floor: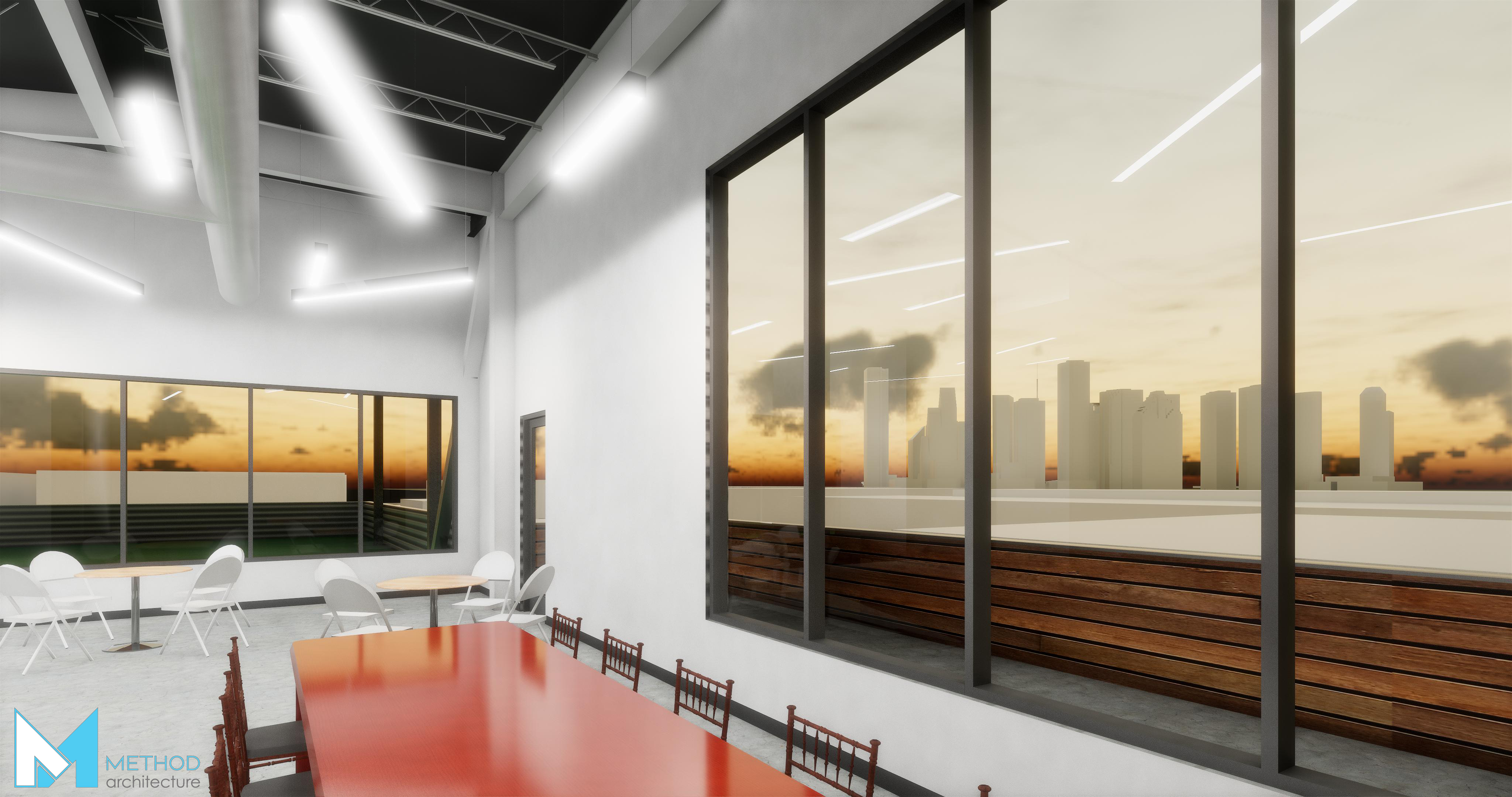 Yes, it's going to be awesome. There's isn't a building taller than ours between us and downtown, so that's the actual, VR-rendered view from the party room.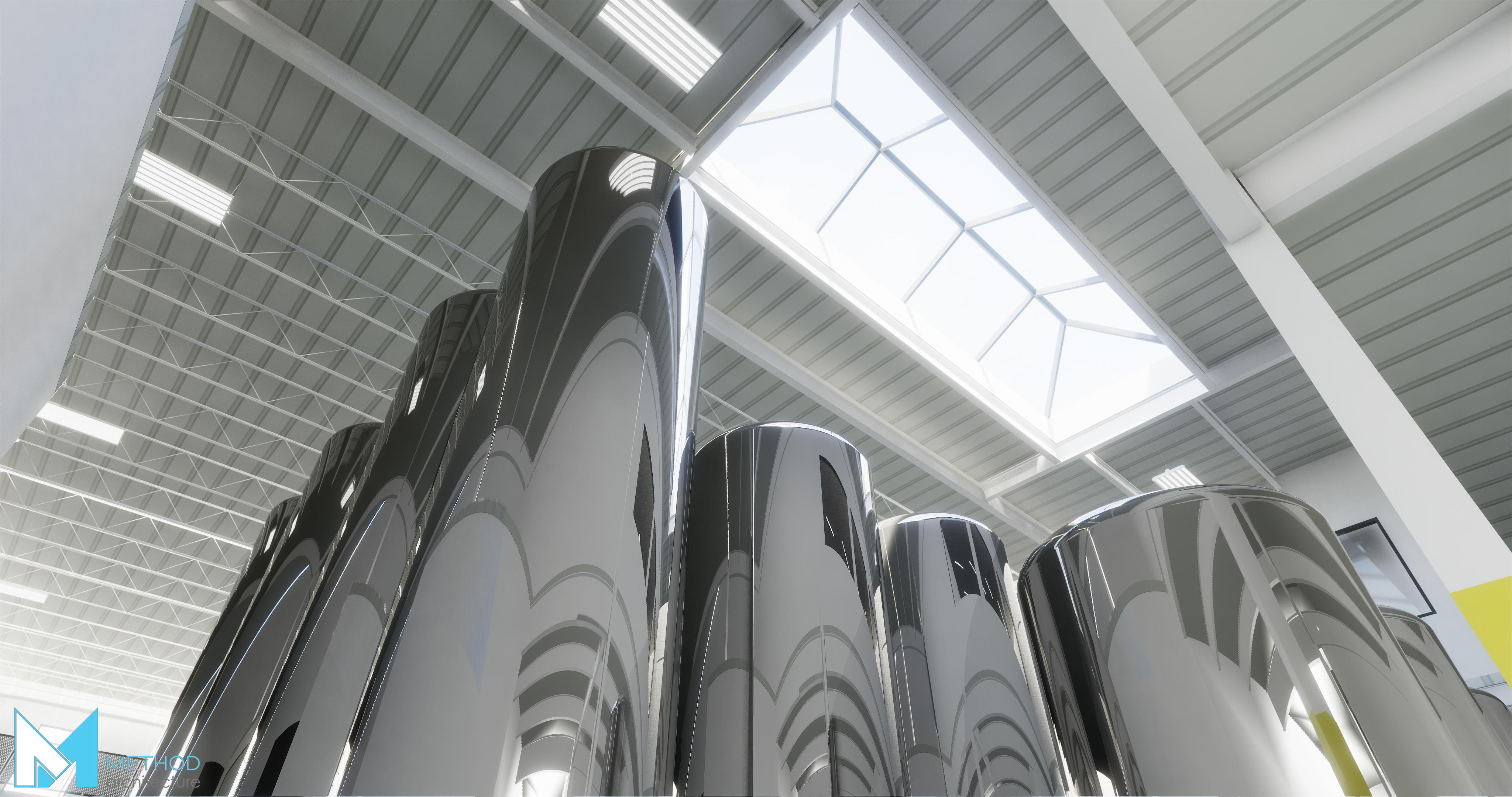 The third floor has two places to hang out: an outdoor, open-air rooftop patio & a big party room with its own dedicated balcony. The main area will be covered & open-air with an incredible view of Downtown. The scale of this picture is a little tricky- under that awning is about 3,000 sq ft, and yes you can actually fit our current production floor under it. That skylight is about 30 feet long (frame of reference: our cold box in 2012 was only 20 feet long) and you can look into it and see what's going on down below.
The party room exists because I'm a pretty princess and I wanted the most badass space for my birthday party (I suppose you can have your birthday party there too, I'm willing to share). It has a private balcony that wraps around to the parking lot side, so you can watch the sunset in the West, and simultaneously see it reflecting off the Enron building. Can you imagine what NYE & July 4th Fireworks are going to look like from this perch? Like I said, goosebumps y'all!!!
Thank you again. We only exist because of you. Especially if you're one of the few poor souls still reading this gibberish… I mean seriously that was a long ass blog post and you're still with us? Thank you. Now now go ride a bike or something, it's nice outside.
Thank you again,
Rassul