Buffalo Bayou Brewing Co. Shifts Back to a To-Go Service Model
Posted on: July 17th 2020
Effective July 15th, 2020, Buffalo Bayou Brewing Co. and Restaurant shifted back to a to-go service model.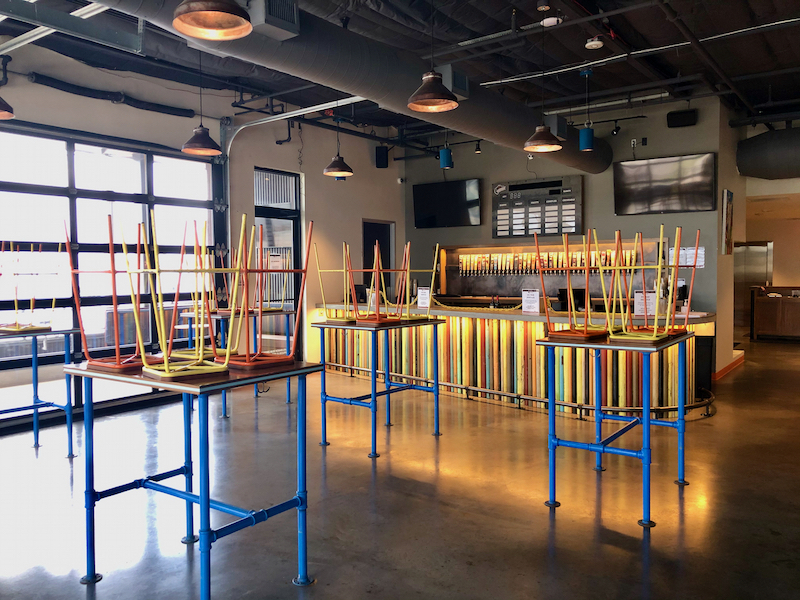 On July 10th, the Governor of the great state of Texas changed the definition of whether or not our brewery can operate as a restaurant.
They are now asking us to bundle our distribution sales of packaged beer towards the 51% marker of food/beer split that qualifies a restaurant vs. a bar.
There are no official announcements from TABC on their website that we can point to for your research on this. There is no official announcement from Governor Abbot that we can direct you to on the Texas.gov website either.
TABC and the Governor shutting down our restaurant on a "reinterpretation of rules" is a sucker punch in the gut. They changed the rules on us in the middle of the game.
They are forcing us to return to a to-go service model. We have no option but to reduce the hours of our staff. Our goal is to provide stable income to as many people as possible. We will be running unprofitably and taking even more creative steps to fight to keep and get back every job for our Herd we possibly can. Like we did the last time they shut us down.
As COVID-19 ran rampant throughout the U.S. and Texas saw a shutdown, we did our due diligence in strategic planning for reopening when the state and local governments deemed it safe. And as we saw the guidelines for opening up safely, we knew we could do better.
We utilized our massive 3-story building to open our restaurant for full service on all three floors. And we implemented a self-imposed 33% cap on our capacity to ensure that we had safe social distancing in place.
Our fantastic staff, from brewers to bartenders, ran operations with diligence and science-based checkpoints throughout the day. From wearing masks and changing gloves between customers to sanitizing high touch points on the hour every hour, we did better than all of the guidelines provided by the government and industry analysts suggested.
Every hurdle we came across, we cleared.
Small business owners in Texas are some of the most resilient people on the planet. We are scrappy bootstrapped warriors who find ways to adapt, survive, and thrive no matter what obstacles come our way. We will survive this, and we will come out stronger for it as we fight for rules and regulations that are not discriminatory against breweries.
We are fighting this interpretation aggressively. We are working with the Texas Craft Brewers Guild and our attorneys to figure out the most effective path forward. The only logical and fair definition is that Buffalo Bayou Brewing Co. is a restaurant and that TABC holds us to the same standards and regulations as other restaurants in Texas. We will pursue this relentlessly.
That said, do not mistake this as a lack of respect for responsible safety measures. We are taking this pandemic very seriously as many of our guests in the past months can attest to it.
Two weeks ago, KHOU11 interviewed me about our high standards and position as a model for safety as bars across the state were shut down. Our high standards of safety and self-imposed 33% cap on capacity, along with our patios and open-air floor plan, provide a relaxing and fun environment where our guests feel safe.
When we open our restaurant to the public again, we will continue to provide a safe and fun environment as a community hub.
Your support through this endeavor is much appreciated, and here is how you can help.
Head to https://gov.texas.gov/apps/contact/opinion.aspx and share your opinion. Let Governor Abbott know that you believe that breweries with restaurants should not have to count their distributed packaged beer sales against their food revenues.
Then head to the Texas Restaurant Association's petition https://p2a.co/NIBlWbe to help out other restaurants with other "interpretations" that are costing jobs throughout our state.
We thank you for your support and wish you well.
Rassul Zarinfar
CEO & Founder
Buffalo Bayou Brewing Co.
Houston Proud
Texas Strong