Buffalo Bayou Brewing Co. Named Best Brewery
Posted on: August 7th 2020
Buffalo Bayou Brewing Co has been named Best Brewery in Houston 2020 by CultureMap Houston Tastemakers.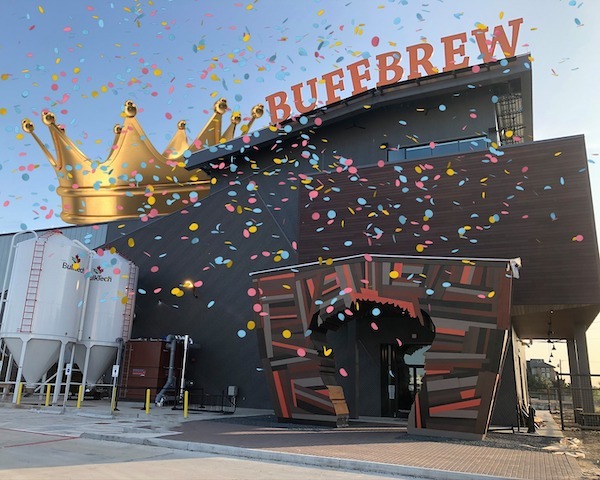 A Letter from Founder and CEO, Rassul Zarinfar:
Congrats, Herd, and thank you for the incredible feats of strength + endurance that everyone has put in along this crazy journey!
Back in 2011, Ryan Roberston (Co-founder and Brewmaster) and I set out to redefine the brewing industry in Texas. No one was brewing the beer we wanted to drink, and no one was digging into flavor theory or building recipes in a genuinely creative way. When you went to places like Petrol Station, multi-generation Texans were drinking East Coast, California and Colorado Craft instead of local beers, because the perfect combination of creativity and quality wasn't in Texas yet. That dog don't hunt.
We opened with 1836 and Gingerbread Stout. Chai Porter was our third beer to market, then Summer Wit (a bright pink witbier with hibiscus, now reimagined as our first seltzer and Tropikal). You should've seen the press, they were so confused! Our first big interview was with Houston Press, and the headline was "This Dud's for You" because the reporter didn't quite understand our creative approach. Why didn't we open with an IPA, a lager, or a wheat beer? Karbach did because they thought Texas consumers weren't ready for the weird stuff. "Experts" concluded: BuffBrew won't last.
Beer Advocate had personal attacks calling me out by name for being stupid. One review that captures what the "experts" said back then went something like: "Gingerbread stout is delicious, which is a shame because Rassul has no idea what he's doing and they need an IPA."
This is just to say: when we hit the scene, Houston had no fucking idea what it was about to witness.
The people loved us from day one, and the critics have always been confounded.
An early moment in May 2012 that's delicious to remember right now was a beer festival at Discovery Green. We were 4 months old, still only had the two of us as employees, and I was on a panel with three other brewers. Someone asked a seemingly innocent question, and I will always remember my emotional reaction. The question was about how behind Houston is, it was a direct shot at some specific Houston breweries for being so conservative with their recipes, and I took it personally because Houston always gets shit on. I'm always triggered when I have to defend her.
The question was, "it used to be that Texas Craft is 10 years behind national trends, and now we're only 3-5 years behind. When do you think the scene will catch up?"
The mic gets to me (my first big speaking moment… adrenaline pumping… don't fuck it up!), and I just started laughing.
"We hit the market with a 10 percent imperial sweet stout as our second beer, and in a few weeks, for Memorial Day Weekend, we're releasing our new summer beer, which is bright pink and brewed with hibiscus flowers. Will dudes drink pink? We don't know, but I'm making a big bet that they will.
"It's either going to be an incredible success or a complete failure, but who in the country is brewing pink beers with flowers right now? Raise your hand if you've ever had a beer with a flower in it [No hands go up]!
"So to answer your question more directly: FUCK YOU because it's time for the rest of the country to catch up to us."
One of the next beers we brewed after that was 1912, where we got with the arborist from Rice and took a few fallen Live Oaks, treated them like barrels, and aged the beer on the wood reclaimed from campus. Then we invented Smoke on the Bayou... who the fuck smokes their own malt, let alone builds a city-wide collaboration of that scale in their rookie season? The year was still 2012, we were ~8 months old at that point, and the team had ballooned up to 6 employees.
Tastemakers, indeed. The critics didn't understand, the self-proclaimed "experts" talked mad shit about us (and I always chuckle when competitors call me arrogant for naming us Houston's Most Creative Brewery... come and take it for yourself then, Broseph!). But the people have always understood.
Yet even then, it took years to get the awareness needed to win an award like this.
Enter Alex Griggs, who is now our Chief Operating Officer.
Alex came in as a shift brewer on the overnight because he was tired of O&G. In the quiet wee hours, he started writing what would later become the incredible quality department that allowed us to shore everything up and gain unprecedented consistency. "You manage what you measure, and we're not taking enough data points on our quality side," he told me on the couch in the corner office at Nolda that used to be mine but became Alex's a few years after that chat. I'll always remember that conversation. Soon enough, he was running the entirety of the new brewery construction project, balancing so many stakeholders and ideas and details that it boggles my mind to imagine. It's exhausting and technically impossible to zoom out and in with the speed and precision that Alex does, balancing the big picture while minding the details.
Ryan's talents have always deserved a Texas-sized megaphone, and I had built the biggest stage I could make on Nolda St: two disconnected warehouses patched together with a duct-taped forklift driving in between. Alex built this 3-story stage on Summer St, and our Brewmaster finally had the platform he deserved.
On the first weekend that we were open in our new brewery, Houstonia Magazine instantly knighted us as "Quintessential Houston."
This was the first of many critical accolades, all praising our creativity and quality. Not just in the beer, but also about the experience, the service, and of course, the food!
Enter Executive Chef Arash Kharat.
Chef had been a friend for years before we even thought about Summer St; and shares the same approach to food as Ryan and the team take to beer: innovation by deconstructing a traditional idea. Then twisting its component parts into a new direction that's still firmly rooted in flavor theory.
I'd have to check the records, but I don't think there's a brewery in the history of CultureMap Tastemakers Awards that has ever been nominated for their food. We got nominated twice in our first year of being open. Per usual, it is not in our DNA to go halfway. Most breweries rely on the merits of their beers, but I couldn't look Ryan in the eye if we paired his genius-in-a-glass with disappointing plates of derivative frozen pub grub.
Of course, a brewery has to have pizza on the menu. So, Chef focused the entirety of his culinary intellect on making the best pizza in Houston. He studied, tested, and put his spin on a timeless classic that is hard to improve because so many people are already doing it so well!
When I think about what an incredible honor this award is, and I think about how big of a team it took to get to where we are, it is simply humbling.
October 2010, this company was a coffee chat with Jerald Reichstein, a homebrew with Jeff Scott, and soon a word document.
In October 2018, we were standing in a field. Alex had gotten us to a set of drawings and a shovel in the ground, but it was a field.
These are the moments when you truly realize that we are limited only by our imagination.
We take empty tanks and fill them with ideas. We look at a field, send a drone up 50 feet, check the numbers twice, and make a big bet. Others may not always see what we see, but now more than ever in the middle of this pandemic, we have used the scientific method to test our own hypotheses and pioneer where others were timid. We do it our way, the right way, leading by example instead of following.
This is when we remember that accolades like these are external, and therefore only provide fleeting fulfillment at best. Yesterday morning (and every morning since Jan 27, 2012), we woke up as Houston's Most Creative Brewery, and we didn't need anyone but ourselves to tell us that.
I'm so proud of our team! The Brew Team is making the most magnificent liquid we've ever made! They took this big buffalo-sized facility by the horns and wrestled the learning curve to the ground. It's no small feat to get a facility like this going, and they've done it flawlessly in the first year! Incredible.
The Sales and Marketing team is more robust than it's ever been, with a more disciplined approach than ever before. What was once a ragtag group of gunslingers are now focused, consistent, trusted experts for customers who have appreciated our approach for nearly a decade.
Our Restaurant Team is making the best food in any brewery in Texas (prove me wrong). And of course, a major thank you goes to Taylor Stephenson (Buff Brew Restaurant General Manager) for his impeccable leadership through turmoil and the restaurant team that lives, breathes, and embodies our brand every minute in the center of a high-pressure fishbowl. They are the public face telling our story to 2,000 people every weekend (safely, of course). I couldn't be more proud of this entire team, especially the work being done on the front lines.
To our fans across the city of Houston and throughout Texas, thank you.
None of this means anything without you. You, who buy our beer at your local grocer. You, who came to our little taproom that could on Nolda St. You, who joined us for fun and crazy anniversary parties.
To all of our fans who've been here from the beginning, you are part of the Herd. Thank you.
To all of our newest fans that have found a second home at our new brewery and restaurant on Summer St, thank you and welcome to the Herd.
We couldn't do what we do without your support.
- Rassul