Buff Brew Grand Re-Opening!
Posted on: May 1st 2020
We missed you!
We are open and ready to serve great beer and tasty food from friendly faces (even if you can't see them smiling behind the masks).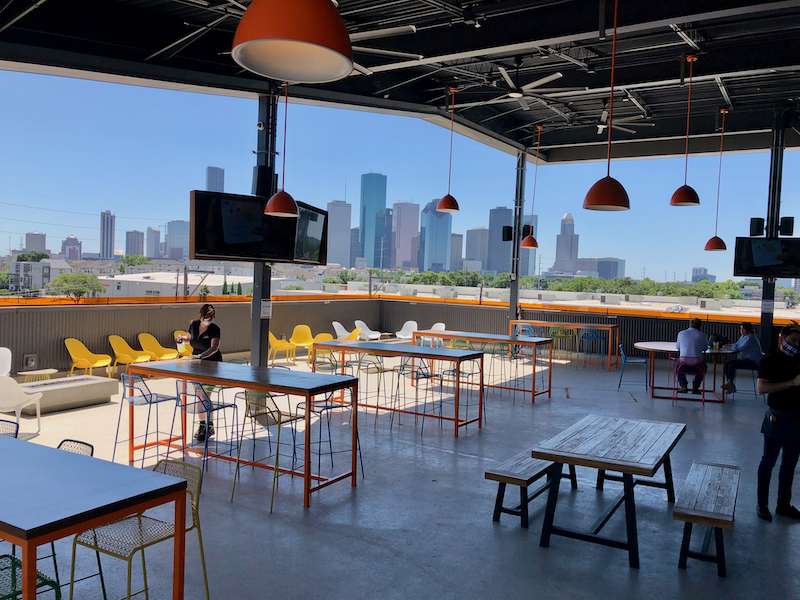 11 am to Midnight, seven days a week!
We've got a full-service menu with tables set at least 6 feet apart. And we're seating all three floors. Now is the perfect time to sit down, drink a cold beer, and eat a juicy burger with downtown Houston as your backdrop!
We also have tents set up in our parking lot for overflow traffic, as we will be adhering to the 25% occupancy set forth by the great state of Texas.
First, we want to thank all of you who ordered food or beer to go over the past several weeks while we all hunkered down. Those orders, big and small, allowed us to keep in place a strong core group of hospitality staff members to allow a quick turnaround for re-opening.
And as soon as we heard that we could re-open our dining areas to the public, we were able to call back the troops and get them all caught up to speed on the new policies and procedures.
We shut down the facility for a few days to do the most thorough spring cleaning anyone has ever witnessed!
We take the health of our Herd very seriously.
As a brewery, we were always on top of sanitation and cleanliness. The process of making beer in our facility requires strict adherence and precision to create an atmosphere that minimizes cross-contamination between brews.
As an organization, we take great pride in our standard operating procedures and checklists that have contributed to high growth and excellence in quality.
These practices laid the foundation for dealing with sanitation, health, and cleanliness efficiently.
Here are some of the steps we've taken to ensure the safety of our guests and staff:
All employees are required to wear face coverings inside the brewery
All restaurant staff are required to wash hands for at least 20 seconds every hour on the hour
We have regularly scheduled sanitation of public areas and high contact points (think elevator buttons and handrails)
The kitchen staff does a full sanitary sweep of the kitchen including disinfecting surfaces every hour on the hour
Extra care is taken on top of our already rigid standards for cleanliness to ensure kitchen staff is gloved and masked when preparing food
We've limited kitchen access to only the most critical interactions and zero tolerance for not wearing a mask
All vendors and delivery personnel for the kitchen, the restaurant, and the brewery are required to wear face coverings upon entering the building
We enforced this rule a couple of weeks ago and sent back a large order when the delivery person didn't comply with our policy and have discontinued doing business with that particular vendor
The city of Houston conducted 2 inspections while we were open during Stay Home, Work Safe and we passed with flying colors
We are a trusted partner for the Houston Police Department and exceed their guidelines for sanitation
We have staff in place with the specific job of continually cleaning and sanitizing
Constant glove changing is in place to reduce cross-contamination
We are using disposable cups for our beer pours and one-time use for our flatware
Our restaurant menus are printed on copy paper for one-time use to avoid cross-contamination between customers
We are adhering to or exceeding the Governor's Report to OPEN TEXAS:
Parties maintain at least 6 feet distance apart from other parties at all times, including while waiting to be seated in the restaurant
Make a hand sanitizing station available upon entry to the restaurant.
6 people max per table
Do not leave condiments, silverware, flatware, glassware, or other traditional table-top items on an unoccupied table
Contactless payment is encouraged. Where not available, contact should be minimized. We are not accepting cash at this point
As these new policies and procedures are put in place by our caring staff, we ask for your patience.
You were used to fast and friendly service. And as we've added in a ton of steps for cleaning and safety, we are now offering safe and friendly service.