8th Anniversary Party - Bigger and Buffer
Posted on: February 18th 2020
This is the party you're looking for.
If you were at last year's Anniversary Party and you've been to our new brewery on Summer St, you know that this year's Anniversary Party is going to be the biggest, buffest party we've ever thrown.
Saturday, Feb 22nd
7 pm - 10 pm
2101 Summer St
Houston, TX 77007
Are you ready?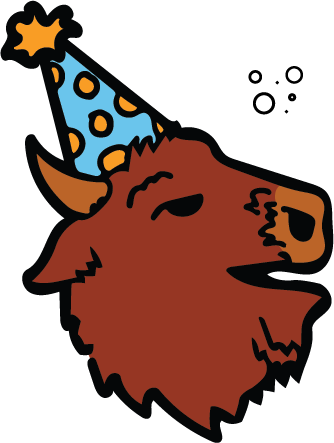 As we approach BuffBrew's 8th birthday, all of us here at the brewery took a moment to think about how much we've accomplished in the last year.
We opened our new brewery.
We tripled our staff.
We're making more beer at a faster pace than ever before.
And we're grateful to all of you fantastic people who continue to drink our tasty brews.
This year, we're upping the level. We'll be partying in a small portion of the parking lot (throwback to Nolda), and of course, we've got our massive 3-story playground for adults with taps galore.
Keep on the look-out for upcoming beer lists, live music updates, food, and other fun!
This is a carnival of beer:
Wrist Bands get you all you can responsibly drink
Buy beer tickets (on site) if you prefer
We'll have food tickets as well
Are tickets required to enter?
No, they're just for drinks or food. Wrist bands get you all you can responsibly drink.
Presale Wrist Bands are closed but don't worry, you can get Wrist Bands and Beer and Food Tickets upon arrival!
This will be our biggest party ever!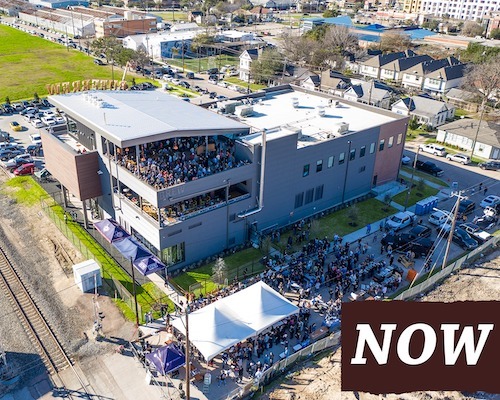 Get ready for the fun!
We've got food!
Your bellies will thank you.
Buff Brew Executive Chef Arash Kharat is smoking, and not just all over the city (though you've no doubt seen him featured in every publication in town).
This is the guy who said "regular pepperoni isn't good enough for what we're trying to do so I'm going to make my own pepperoni out of 44 farm smoked beef brisket!"
He's slinging the goodies that fill your bellies and keep you happy.
BBQ Sammies? check
Tasty Tacos? check
Surprises up his sleeve? checkity-check-check
Smoking hot.


With Live Music by: The Journey Agents
Should be 'nuff said, but in case you've been living under a rock, we've got the funkiest and funnest Houston band to listen to while you drink our creative and crazy beers.
There wasn't another choice for this party. We HAD to find the band that perfectly exemplifies the perfect melding of funk, soul, and creativity, because that's how we do things around here. We meld, mash, and experiment for your (and our) enjoyment.
Over 40 different brews and ciders to tempt your taste buds
Now that you know how you're soaking them up, and what you'll be listening to while you do it, here is the beer list preview you've been waiting for.
Día de los Deutsch
German Chocolate Cake aged on anchos. Pairs excellently w/ kraut queso & schnitzel chips
Orenthal J Crush
We didn't make this beer, but we would tell you exactly how we would have, if we had done it.
Holiday Fruitcake
Fruit Crushtail
Tropical Crush
Jamaican Me Cowbell
Plus your all time favorites and so much more...
We can't give you the whole list, it's too much to handle and too big for this page.
This is just the tip.
We've got the arts covered too!
We can't have a party in the middle of Houston's thriving art community and not reach out to our artist friends for some fun.
We've got a live art installation from resident artist Voltaire and he'll be slinging paint as he pays homage to Houston's beginnings.
AND...we've got this really exciting installation of sound that literally bends your mind in ways that are just too hard to describe. You'll have to hear it to believe it. Local sound and light artist Matt Fries doesn't disappoint when he's been tinkering away in his workshop.
Presale Wrist Bands are closed but don't worry, you can get Wrist Bands and Beer and Food Tickets upon arrival!
We strongly recommend using rideshare. Parking will be limited as the Sawyer Yards campus has multiple events on Saturday!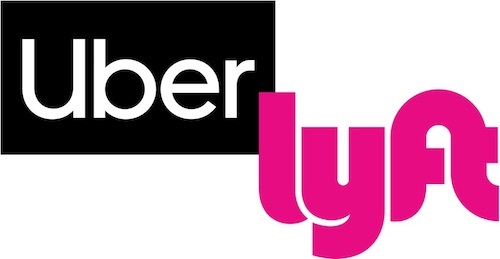 FAQ:
Are tickets required to enter?
No, they're just for drinks or food. Wrist bands get you all you can responsibly drink.
Where should I park?
We strongly recommend using rideshare or public transportation. Uber and Lyft are your friends when you plan on drinking at a brewery.
Are you open during regular hours?
Yes, we our brewery will be open to the public during our regular hours.
When is the restaurant closing?
The whole facility is open all day and you can enjoy your normal Buff Brew experience until 6:59pm. At 7 we'll be switching from a la carte service to more of a Rodeo Cookoff/Carnival feel, with 40+ beers to choose from and a special, event-only food options.
How much is a wrist band the day of the party?
$50 – all you can responsibly drink
What does the wrist band get me?
All you can responsibly drink. Food needs to be purchased with food tickets at the ticket booths.
How much are beer tickets?
Food and beer tickets are $5 each.
What are beer tickets and food tickets for?
All beers are 1 beer ticket and will be either a 5 oz pour of an anniversary beer, or a regular pour (pint or snifter) of our regular and seasonal beers. Food items will either be 1 or 2 food tickets depending on the item.
Do Designated Drivers require a wrist band to get in?
No one needs a wrist band or tickets to get in the party. You only need wrist bands and tickets to drink and eat at the party.
Are kids allowed?
Our brewery is family friendly and the Rooftop Beer Garden is 21+ after 9 pm. This is a beer party so please keep that in mind if you decide to bring your children.
Are dogs allowed?
Our dog patio isn't quite ready for our furry friends just yet.
Will there be security?
We will have police officers on site to manage security.