2nd Annual LAST XMAS IN JULY AT NOLDA
Posted on: July 11th 2019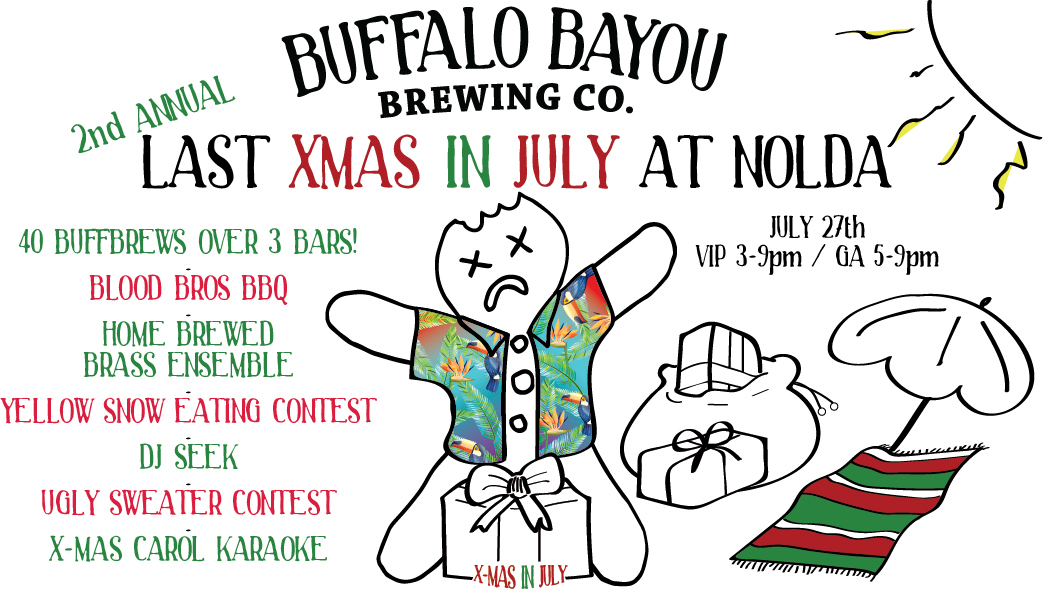 Saturday July 27th at Buffalo Bayou Brew Co., it's the most wonderful time of the year, yet again! It's the 2nd Annual Last Xmas in July at Nolda! We're going bigger than ever as we party one last time at Nolda before we move into our new home on 2101 Summer Street.
40 BUFFBREWS OVER 3 BARS!
-
BLOOD BROS BBQ
-
X-MAS CAROL KARAOKE with the HOME BREWED BRASS ENSEMBLE
-
DJ SEEK
-
YELLOW SNOW EATING CONTEST
-
UGLY SWEATER CONTEST
-
CUSTOM GLASSWARE
Whether you've been naughty or nice this summer, we've got limited release special brews for you, sure to leave your stockings (responsibly) stuffed.
We've got a very limited number of VIP tickets that gain you early access to the event, including a special VIP bar with BuffBrews not available anywhere else throughout the event. These always go fast so feel free to wait! We're sure none of your your friends will point and laugh at you from the VIP bar!
All tickets (21 and up only) include custom event glassware, access at 5 pm to the R&D and Main bars, unlimited Xmas carol karaoke, ugly sweater and yellow snow eating contests among many other forms of Xmas cheer.
BEER LIST PREVIEW
Maui Wowie
Wake 'n Bake + coconut + almond
Baklava
Wake 'n Bake + cinnamon + toasted marshmallow
Salted Caramel Blonde Mochaccino
Wake 'n Bake + salted caramel
Lil' ol' Baby Tart
Great White Buffalo + peach + lime
Granny Sam's Applemelon
Ginger Melon Mule + apple
The Triple Cripple
Sam's + mint + aged on Old Grand Dad 114
Whiskey Nuts
Pecan Pie + whiskey + white ash
BA Figaro
Figaro aged in Angel's Envy barrel
Devil's Triangle
Sam's + elderflower + mint
Orenthal J Crush
Crush City + orange + orange peel
Fruit Crushtail
Crush City + lime + orange + cherry
Mochamint GBS
Gingerbread Stout + coffee + mint
Wake Up and Smell the Nut Butter
Wake 'n Bake + peanut butter
Sam's Nuts
Sam's + pistachio
Swipe Right
Sam's + passionfruit
Whiskey Dick
Morning Wood + whiskey
Tropical Crush
Crush City + passionfruit + mango + lime
Coconut Gingerbread Stout
Gingerbread Stout + freshly mowed grass
Pepino Picante
Great White Buffalo + jalapeno + lime + cucumber
Salty Buffalo
Great White Buffalo + sea salt + grapefruit
Blood Candy
Sangre + blood orange + candied ginger
Pineapple Upside Down Cake
Great White Buffalo + pineapple + vanilla + cherry + almond
Cabin Fever
More Cowbell + cedar
Mango Cowbell
More Cowbell + more freshly mowed grass
Amaretto 1836
1836 + almond
Pulp Up the Volume
Crush City + grapefruit